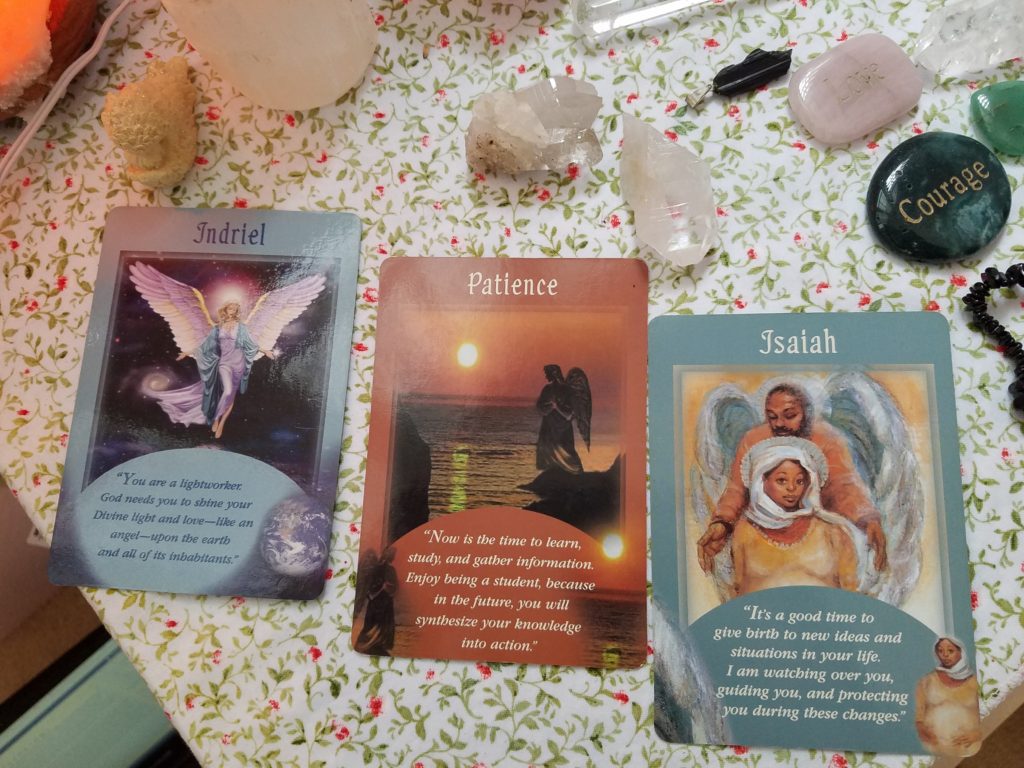 So this week is another exciting week energy wise! Seems like every week this year has been exciting, which is great because we are having huge upgrades here on earth and the collective consciousness. More and more people are waking up and waking up to higher levels of consciousness and awareness.
The angels are saying that the energy will start to increase towards the middle of the week leading into the full moon and lunar eclipse, so around Wednesday. Keep yourself grounded and centered! Whenever there are big energy shifts, you want to make sure to stay grounded as possible to not be affected as much from the "chaotic" energy that can come from these shifts. The Earth is spinning much faster and can make you feel a little off balance and ungrounded. Spending lots of time out in nature and meditating will help a lot. Also moving your body such as yoga, swimming, hiking etc will help you to stay grounded as well. If you are able to do your workout outdoors that would be even better!
The first card says "You are a lightworker. God needs you to shine your Divine light and love – like an angel – upon the earth and all of its inhabitants." This is a very powerful card! The angels are saying as a lightworker, you must do your best to set the example. "Be the change you want to see in the world". In order to bring more love, peace and compassion to the world you must become more loving, peaceful and compassionate to others and to yourself. Practice peace and compassion in every situation of life. Good questions to ask yourself whenever faced with a challenging situation are, "What is the higher perspective? What am I learning from this situation? How can I see this situation through the eyes of God and with love?"
The second card for this week is Patience. It says "Now is the time to learn, study, and gather information. Enjoy being a student, because in the future, you will synthesize your knowledge into action." The angels want to remind you that you are a life long student here on Earth. You came here to learn and to remember that only love is real. It is easy to forget this when you are faced with challenging situations and fears. But that is exactly the reason you came here. Each time you come back to love, each time you remember, that is a pivotal learning moment and you add more love to the collective consciousness. Each time you remember your own truth, you are helping others to remember their truth as well. The angels are saying this is a good week to work on upgrading your life. Take a look at your life and see which places you would like to improve on. See the areas in your life where you are playing small and ask "how can I shine more light on this part of my life?" and create a plan of action to do it!
The third card for this week says "It's a good time to give birth to new ideas and situations in your life. I am watching over you, guiding you and protecting you during these changes." This is the perfect card for this week since we have both the full moon and lunar eclipse on September 16th! It's interesting because usually during full moon it is a time for reflection and letting go. Actually the angels say that you are letting go of deep old fears that have been holding you back for so long and now you can start on bringing in the new! You are beginning a new chapter in your life with the ending of the eclipse season! Use the powerful energy this week to jump start the parts of your life you want to upgrade! Maybe you want to start a work out routine or a healthier lifestyle. This is the best time to start! Start one thing, the thing you have been wanting to start on for so long but have been making excuses on. That thing your soul is longing to do. That's the one you should start on first! Take one step forward and the rest will fall into place. Everything is connected so you will notice as you work on improving one part of your life the other parts will begin to follow.
Wishing you lots of love and sparkles!
Lindsey
P.S If you are ready to upgrade your life, I am doing a group healing this week for self love and heart healing. You can sign up here or schedule a 1 on 1 healing session with me. <3