Hi Everyone! Welcome to my website and blog!
I want this blog to be a place where I can bring inspiration, happiness, and sparkles to people. I want this to be a place where I can learn and grow, and help others do the same as well. Hence the tagline "Changing the world, one sparkle at a time"!
It took me a long time to finally start my website and my personal blog. In the past few months I bought about 10 different domains because I couldn't decide on the perfect name. Then I decided, instead of stressing over the perfect name, why not just make it my actual name? Simple and crisis solved. However, my second crisis was that I was afraid to use my name. I was afraid to be so open to the public, writing about myself and my life. I realized my fear kept me in a state of procrastination. Every day I would tell myself, "Okay today let's write a blog post! Let's finally start this blog!", but self-doubt would creep in and I would end up doing nothing.
"What if I'm not good enough? What If people judge me? Who am I to think that I could ever try to inspire and help other people?"
These never ending thoughts would take over and paralyze me from starting.
There were also all the excuses I would make to keep me from starting:
"Oh I don't have a professional looking website. After I get it professionally designed then I will start. Oh I don't have the money right now to pay for that so I will just wait until I can save up money to get a designer then I will start blogging. Oh I don't have a logo or a banner. After I learn how to make one then I will start blogging."
So many excuses!!
I also realized I have this fear of not being "perfect". I had to remind myself.
"Hey! No one is perfect!! Everything in life is a work in progress. It doesn't matter if your site is not professionally done. Just post something! Anything!"
So this quote really got to me this week: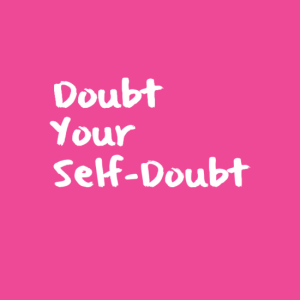 "Doubt your self-doubt". I even made a video about it! Another thing that I was procrastinating on but I finally filmed a video! I stopped waiting to get professional lighting and a microphone (more procrastination and excuses). I just used my DSLR, pressed record, and shot it in one take.
So if you're like me, and have been procrastinating and making excuses as to why you shouldn't follow your dreams, tell this to your self-doubt:
Hey self-doubt! You are not in control of me. I am in control. I won't let you hold me back from my dreams any longer. I doubt any of my self-doubts are true! Take that! (Feel free to add whatever else finishing words you would like to say before crushing your self-doubt into the ground.)
Now go and take one step towards your dream. Any step. All you need to do is start and the rest will fall into place. Just start! Start now! =)