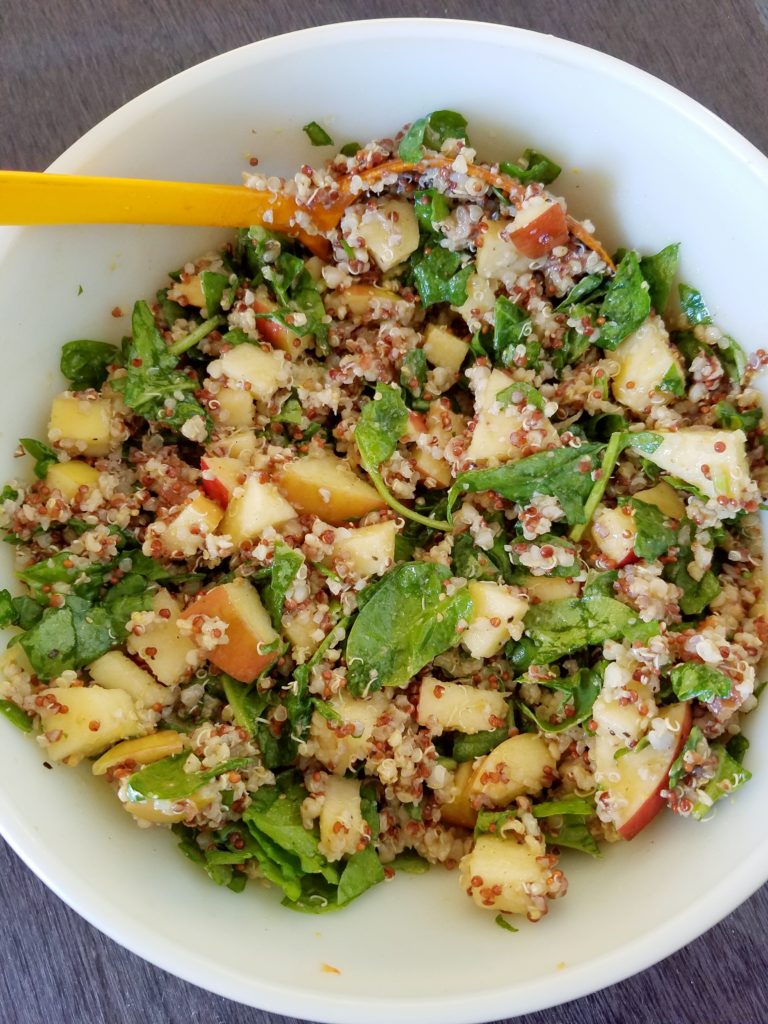 Hi Sparkly Souls! This is one of my current favorite salads to eat! Just looking at it makes me want to eat it again. It is sweet, savory, tangy, and crunchy! It's great as a light meal or as a side dish. What really makes the salad is the toasted pecans so make sure to spend the extra couple minutes to toast them. It really brings out the flavor. If you don't have pecans, walnuts are another great option. 
This is optional but I also added some avocado on top to make it a hearty and satisfying meal. That and my avocado was about to be overripe so I needed to use it right away.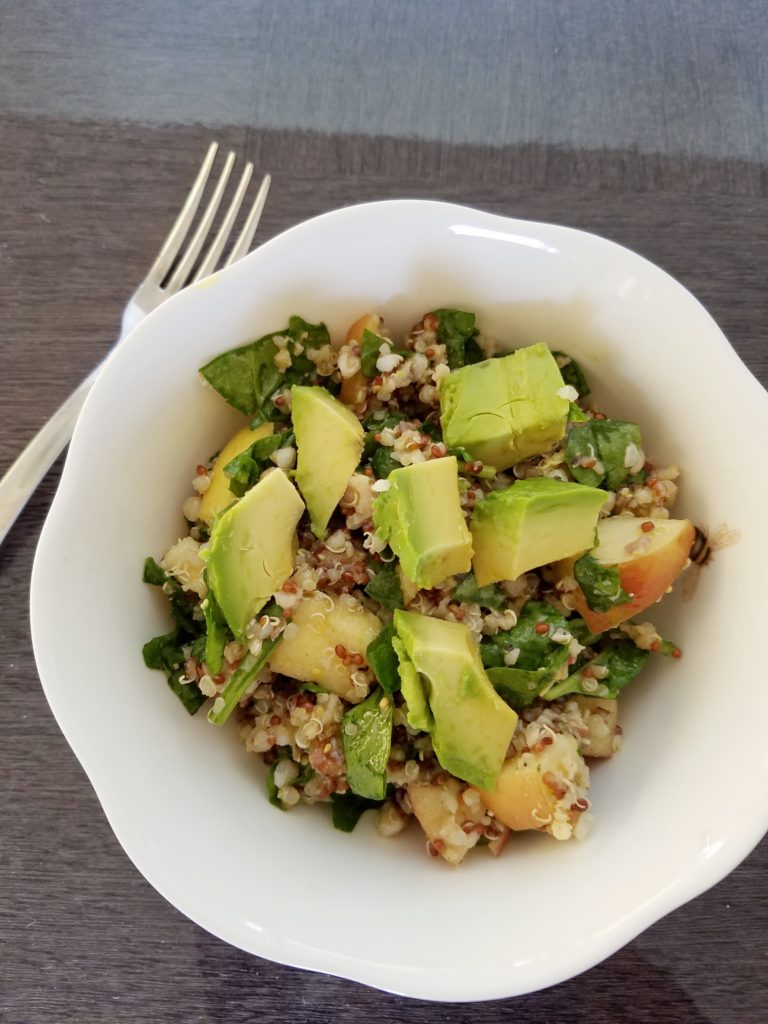 Serving Size 2
Salad
1 cup uncooked quinoa
1 apple
3 cups spinach
1/2 cup pecans chopped into pieces
Dressing
1 tablespoon Dijon Mustard
2 tablespoons Apple Cider Vinegar
3 tablespoons Extra Virgin Olive Oil
Squeeze of fresh lemon juice or 1 drop of lemon essential oil (I use this brand)
Cayenne pepper, Himalayan pink salt and black pepper to taste
Play around with the ratios of the dressing to get the flavor exactly how you like it. 🙂 Sometimes I like to add more Dijon Mustard for more creamy tanginess.
Directions
1. Cook 1 cup of quinoa according to directions on the bag. (Tip: rinse the quinoa before cooking to get rid of the bitter taste)
2. While quinoa is cooking, chop up apple and spinach into bite size pieces.
3. To toast the pecans heat up a small fying pan on medium high heat. Once heated, add pecans and continuously stir for 1-2 minutes or until they look roasted. Set aside on a plate to cool for a few minutes. Then chop up into smaller pieces.
4. Make dressing by mixing all ingredients together in a small bowl. Adjusting for taste.
5. After quinoa is done cooking and cooled down, mix together in a large bowl with apples, spinach and pecans. I like when the quinoa is still a little warm but not hot so it wilts the spinach down just a bit.
6. Pour dressing on salad and mix all together. You may not want to use all of the dressing depending on how light or heavy you want the salad. You can save the extra dressing for another meal. 🙂
7. Enjoy!!! 
Shopping links:
Quinoa
Walnuts
Apple Cider Vinegar
Dijon Mustard
Let me know if you try this recipe out! Tag me on Instagram @lalalinzy if you post a picture! =)
Love,
Lindsey